So a while back I promised myself that I wasn't going to buy any more whips off ebay.

Then I remembered what a liar I am.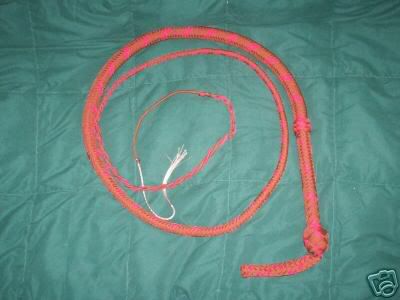 To be honest, I only bought it for the novelty factor - "Oh joy, I have a whip made out of parachute cord. I'm soooooo very cool...."

I was pleasantly surprised when I finally got my hands on it. It performs almost as well as the two leather whips I bought from Dijon, and it's a helluva lot better than some of the cheap pieces o' shite that I previously bought on ebay.

For those that care, it's six feet long, two braided bellies, with a 16 plait overlay.